The Start Menu is the first menu presented when the editor is launched. It allows the player to:
Create new mods from existing ones or delete them
Edit basic data about mods (faction, multiplayer allowed etc.)
Edit their content such as decisions
Mod list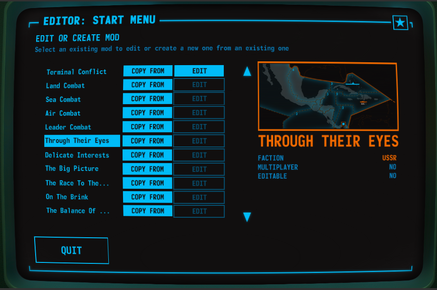 On the left-hand portion of the menu, the installed mods are displayed in a list, with the main game displayed as the first entry, called "Terminal Conflict"
Clicking on an entry will highlight the mod and, on the right-hand portion of the menu, will display its basic information
Clicking on will display a dialog prompting the player to choose a name for the new mod being created, which will be initialized with all the files and values from the selected mod
If the mod can be edited, an "X" will be prepended allowing the user to delete the mod entirely if clicked ; no confirmation is asked.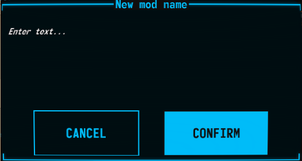 The mods installed by default can't be edited from within the editor. For them, the Edit button is displayed as darkened , whereas for new mods that the user creates the Edit button is enabled . In this case, clicking on it will bring the user to the Edit Menu, where the selected mod's content can be modified.
Mod information
When selecting a mod, the right-hand portion of the menu displays its basic information such as the image displayed, the title, etc.
Some of its properties, such as the image and the faction, can be edited by clicking on them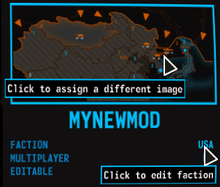 The faction determines what faction will the player play as. If set to ALL, it means the mod can be played in multiplayer mode.
Community content is available under
CC-BY-SA
unless otherwise noted.